John and I are eagerly anticipating a trip to Nepal, arriving there on June 26th.  Dave and Terry Monaghan, veteran participants  and  faithful scholarship contributors, will accompany us. We will spend time with the students who are recipients of the "White Rhododendron" scholarships.  Together we will all enjoy a couple of days away from the noise and congestion of Kathmandu.  We will study the Bible, pray, have some fun, and just hang out together. This gives us an opportunity to hear about the students' lives and provide input and guidance about academic, vocational, spiritual or personal matters.  We can't wait to see these students who are so enjoyable and easy to love!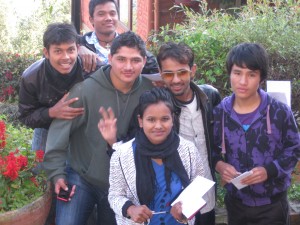 We will also visit National Bethel Academy, the school in Trishuli which Foresight helped to found and  now funds.  We look forward to seeing the newly added third grade classroom, meeting three new teachers, and renewing acquaintances with the veteran teachers as well.  Besides the warm hospitality which we always experience there, we will observe in the classrooms and offer helpful comments to the teacher.
In our spare room we are accumulating piles of basic supplies for the school donated by caring friends.  Good luck to John who has to figure out how to pack all the generous contributions !!  Thanks to all the contributors!!